Is there anything better than Bailey's in your hot cocoa or coffee? The answer is yes! These Bailey's Marshmallows add that delicious Bailey's flavor with that gooey marshmallow deliciousness! Homemade marshmallows are so much easier to make than you would ever think. Don't be intimidated - I will walk you through the whole process and you'll be blown away by how easy it is!
What you'll need
If you have a stand mixer, you'll want to use that. If you only have a hand-held mixer, that's okay too, just warm up your arm! You will also use a candy thermometer, but don't worry, they're super easy to use (and super inexpensive to buy)! I'll walk you through the process below. Lastly, you'll need an 8x8 pan and parchment paper, wax paper, or foil.
Ingredients
gelatin
Bailey's Irish Cream
sugar
corn syrup
kosher salt
water
How to prepare your pan
Line a square 8×8 pan with parchment paper. You can use binder clips to hold it in place! You'll combine the corn starch and powdered sugar, and then spread about half of that around the bottom and up the sides of the parchment paper.
How to make Bailey's Marshmallows
You'll put the gelatin and Bailey's in a mixing bowl, and set it aside. Then you'll want to heat all the rest of the ingredients on the stove, first covered for about 4 minutes, then uncovered until it reaches 240 F. This is where you'll need the candy thermometer. Once you uncover the pot, all you have to do is clip the thermometer to the side of the pot, make sure the tip of the thermometer is in the mixture, but doesn't touch the bottom of the pot. Then you let the thermometer do all the work! Once the thermometer reads 240 F, you'll remove the pot from the heat, and carefully remove the thermometer from the pot (the thermometer could be hot to the touch).
Start running the mixer in the Bailey's and gelatin. Slowly pour in the hot mixture, and then continue mixing for about 12 minutes, until the mixture is white and smooth. Then, using a spatula that has been sprayed with non-stick spray, spread the marshmallow mixture into the prepared pan. You'll then sprinkle the remaining corn starch/powdered sugar and then let set for a few hours. Use a knife sprayed with non-stick spray to cut into squares, or you could even cut out shapes with a cookie cutter!
These are great to toss in a warm beverage, or just bite right in! These also make perfect homemade gifts!
Looking for other marshmallow recipes? Check these out:
Maple Marshmallows
Chai Marshmallows
Pumpkin Spice Marshmallows
Lemon Lavender Marshmallows
Looking for other Bailey's recipes? Check these out:
Bailey's S'mores Brownies
St. Patrick's Day Treats
Did you try this recipe? Review and comment below, and share a photo on Instagram and tag @flourdeliz!
Pin this recipe for later:
📖 Recipe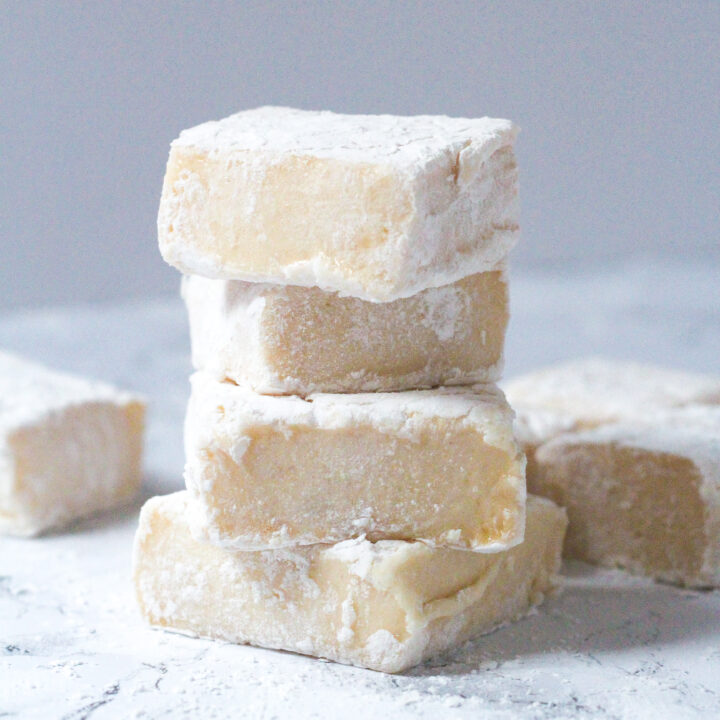 Print Recipe
Bailey's Marshmallows
Ingredients
3

packages

unflavored gelatin

½

cup

Bailey's

1 ½

cups

sugar

1

cup

corn syrup

½

teaspoon

kosher salt

Diamond Crystal

½

cup

water

¼

cup

powdered sugar

¼

cup

cornstarch
Instructions
Line an 8x8 pan with parchment paper and set aside. Combine the cornstarch and powdered sugar, and cover the bottom and sides with half of this mixture.

Put gelatin and Bailey's into the mixing bowl of a stand mixer with the whisk attachment and set aside.

In a medium saucepan, combine sugar, corn syrup, salt, and water. Cover and heat over medium high heat for 4-5 minutes.

Uncover, and attach your candy thermometer to your pot, heating until the mixture reaches 240° F (about 5-10 more minutes). See the blog post above for tips on using a candy thermometer.

Remove from heat. Begin whisking the gelatin mixture in the stand mixer.

Very slowly pour in the corn syrup mixture while whisking. Continue whisking for about 12 minutes.

Spread the marshmallow mixture into the prepared pan.

Sprinkle remaining cornstarch mixture over top of the marshmallow mixture.

Cut into cubes with a greased knife, or use a greased cookie cutter to cut into shapes.