Chocolate Chip Cookie Cake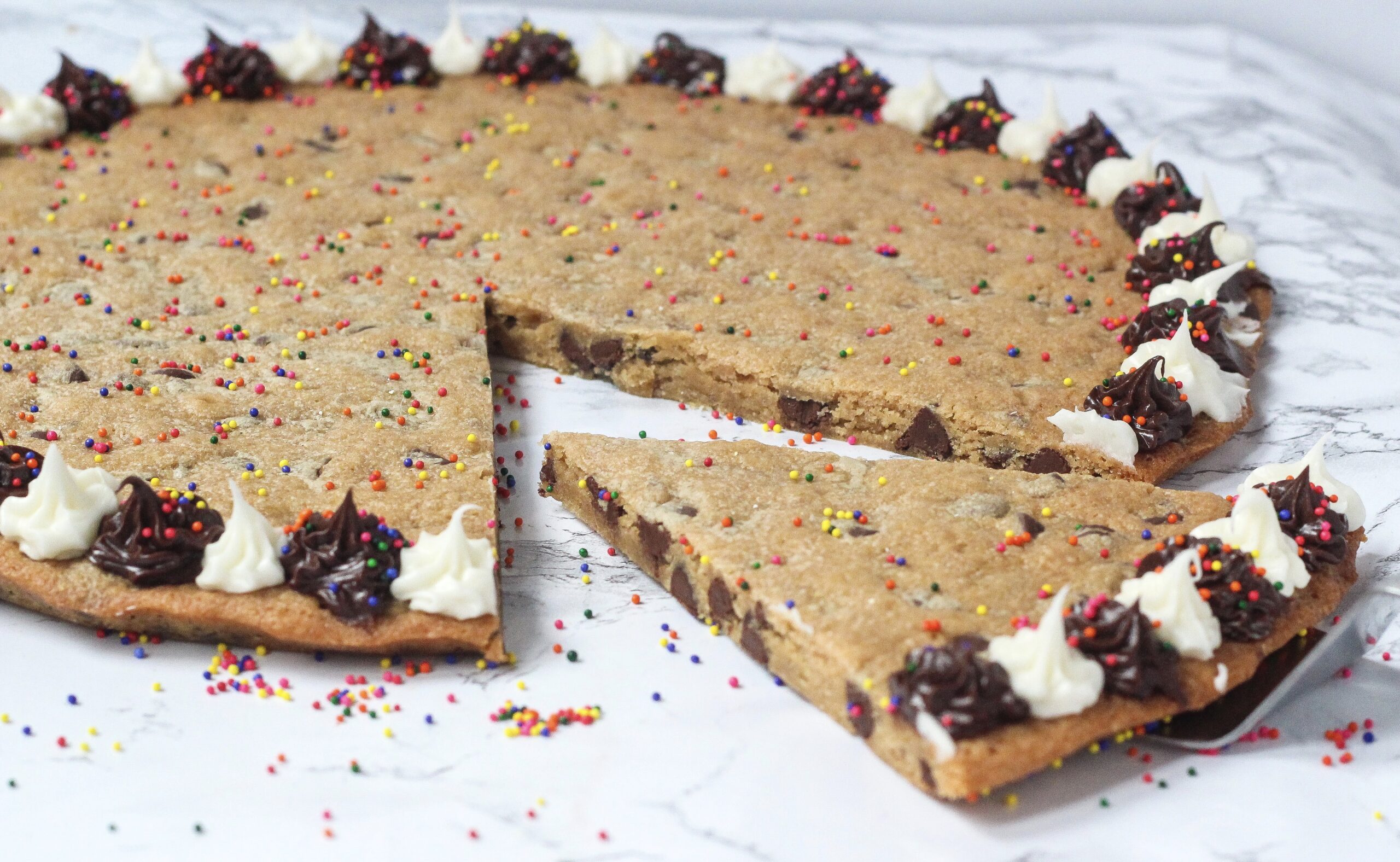 As a baker, I probably shouldn't share this unpopular opinion, but I don't love cake. Cake is just a sweet, bready vehicle to get that luscious, delicious frosting into my mouth. I would take brownies, ice cream, or, of course, cookies, over cake any day. Including my birthday! So for my birthday, I always pick a cookie cake over a regular cake. I absolutely love cookie cakes, especially from Great American Cookie Company. But they don't exist here in Boston, so I figured out how to make this copycat Chocolate Chip Cookie Cake myself!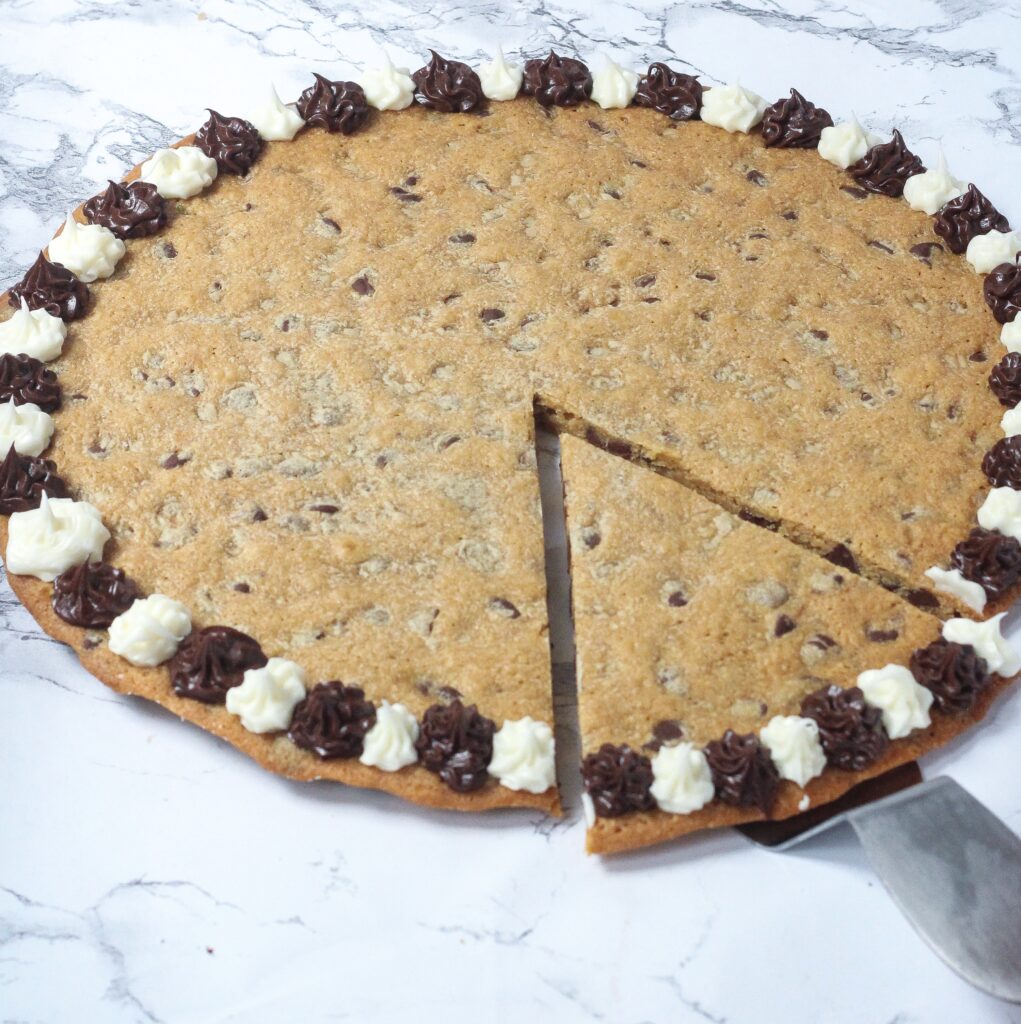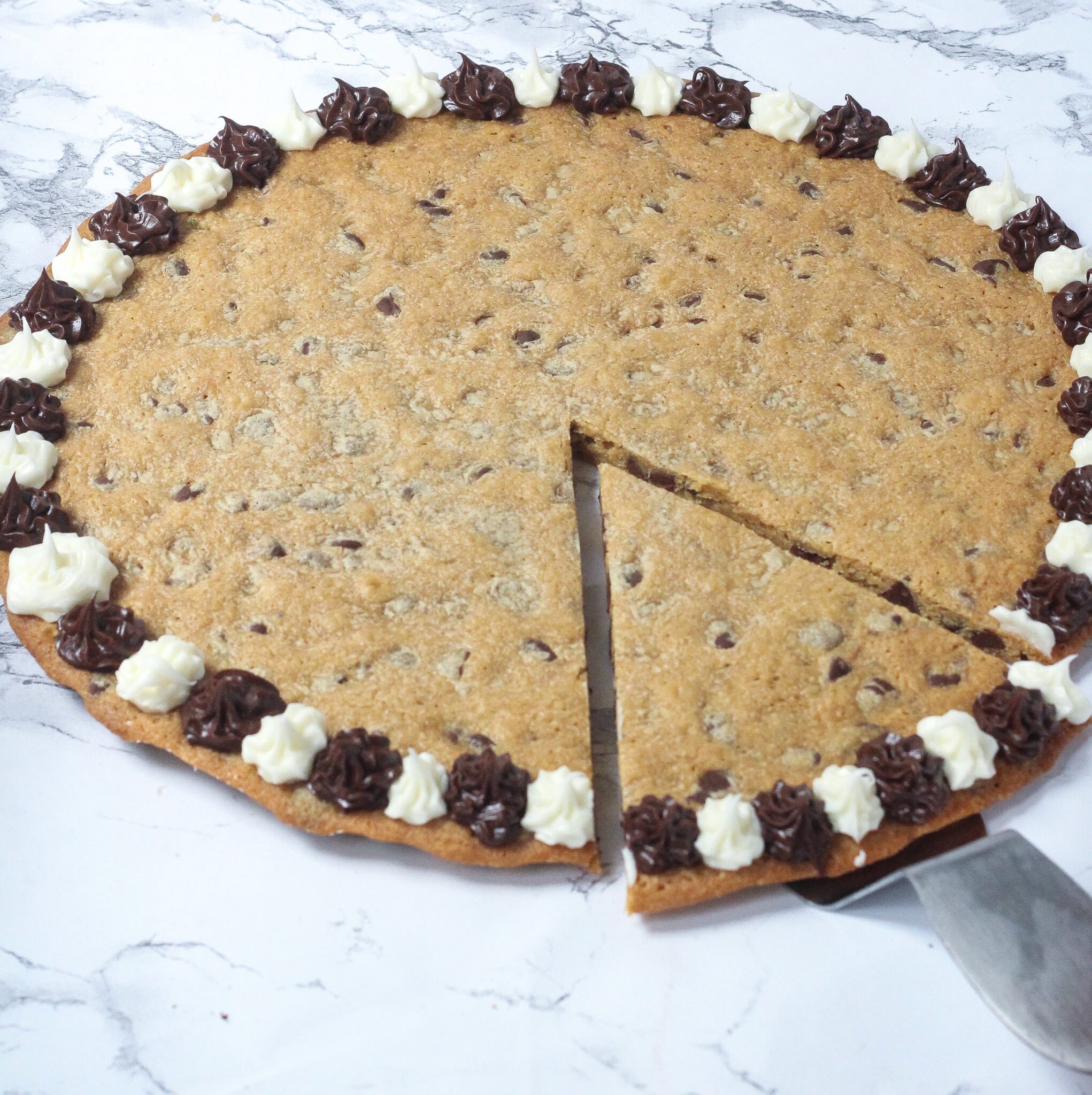 What you'll need
This super easy recipe needs just a bowl and a spoon or spatula for prep. If you have a round cookie sheet (usually pizza-sized, but not a pizza stone), that is what I used, but you can easily make a rectangular cookie cake on a regular, rimmed baking sheet.
How to make Chocolate Chip Cookie Cake
You'll want to line the baking sheet with parchment paper. If you're using the round sheet, I place the parchment on the baking sheet and then cut the overhang around the outside of the sheet so the parchment is round and won't hang down onto the oven rack.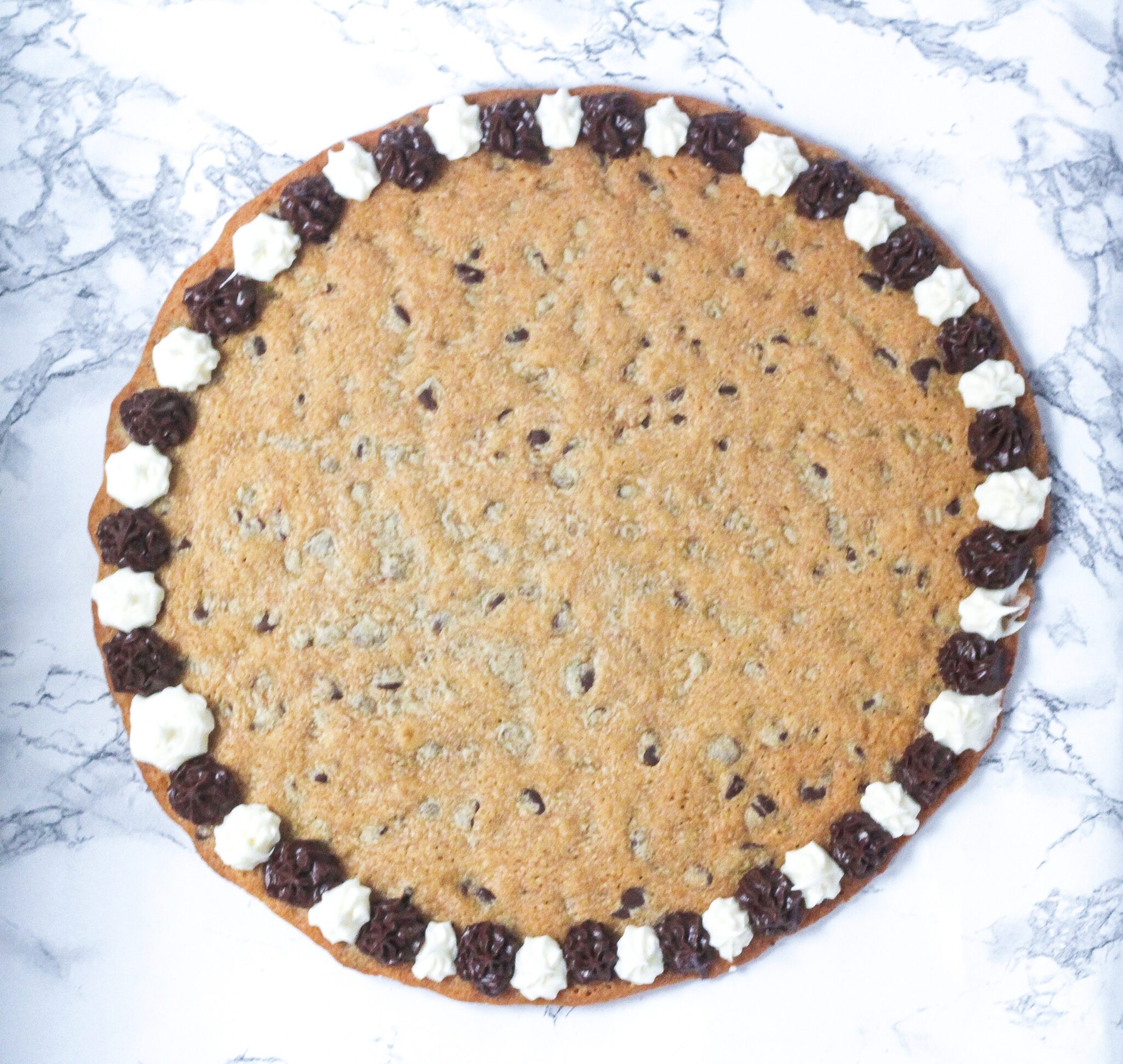 In your bowl, you'll first mix together the melted butter and brown sugar. You'll then stir in the vanilla and egg. Following that you'll stir in flour, cornstarch, and salt. Once you have your batter, you'll stir in the chocolate chips. Lastly, you'll want to stir in the cornstarch. Make sure this is well combined, and then spread onto the lined cookie sheet. Bake for about 20 minutes – the cookie will be golden brown when done.
Decorating the Cookie Cake
Let the cookie cool completely before decorating or the frosting will melt. You can certainly make your own frosting, but I think the best cookie cakes are topped with canned frosting. I used alternating Dark Chocolate and White frosting, but you can use any flavors you'd like.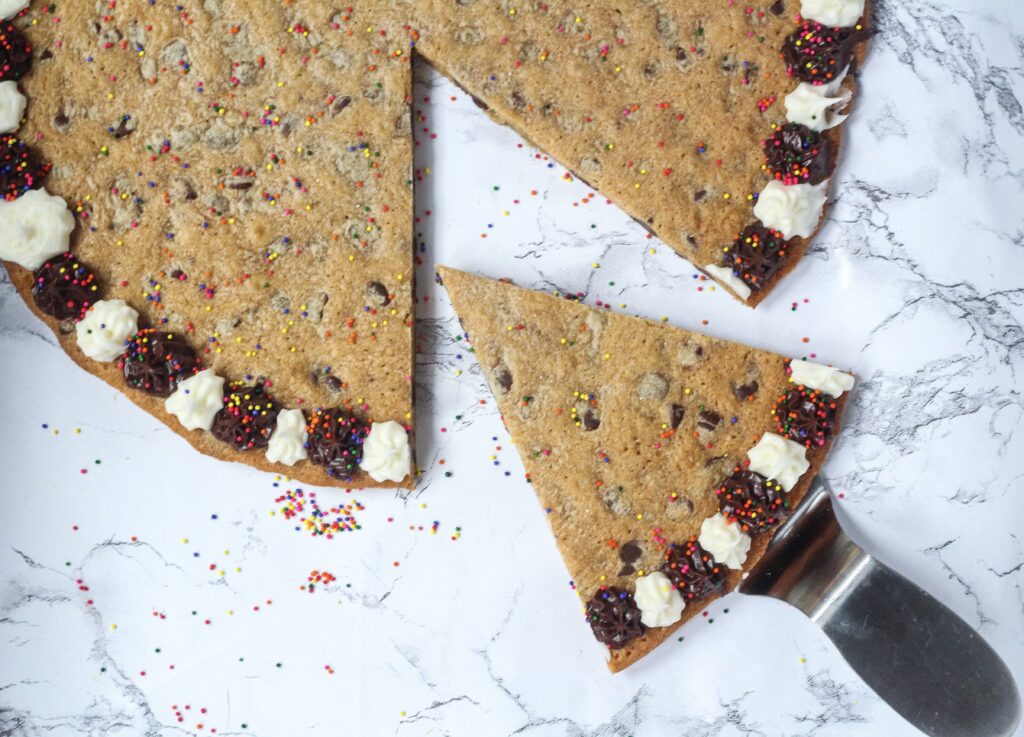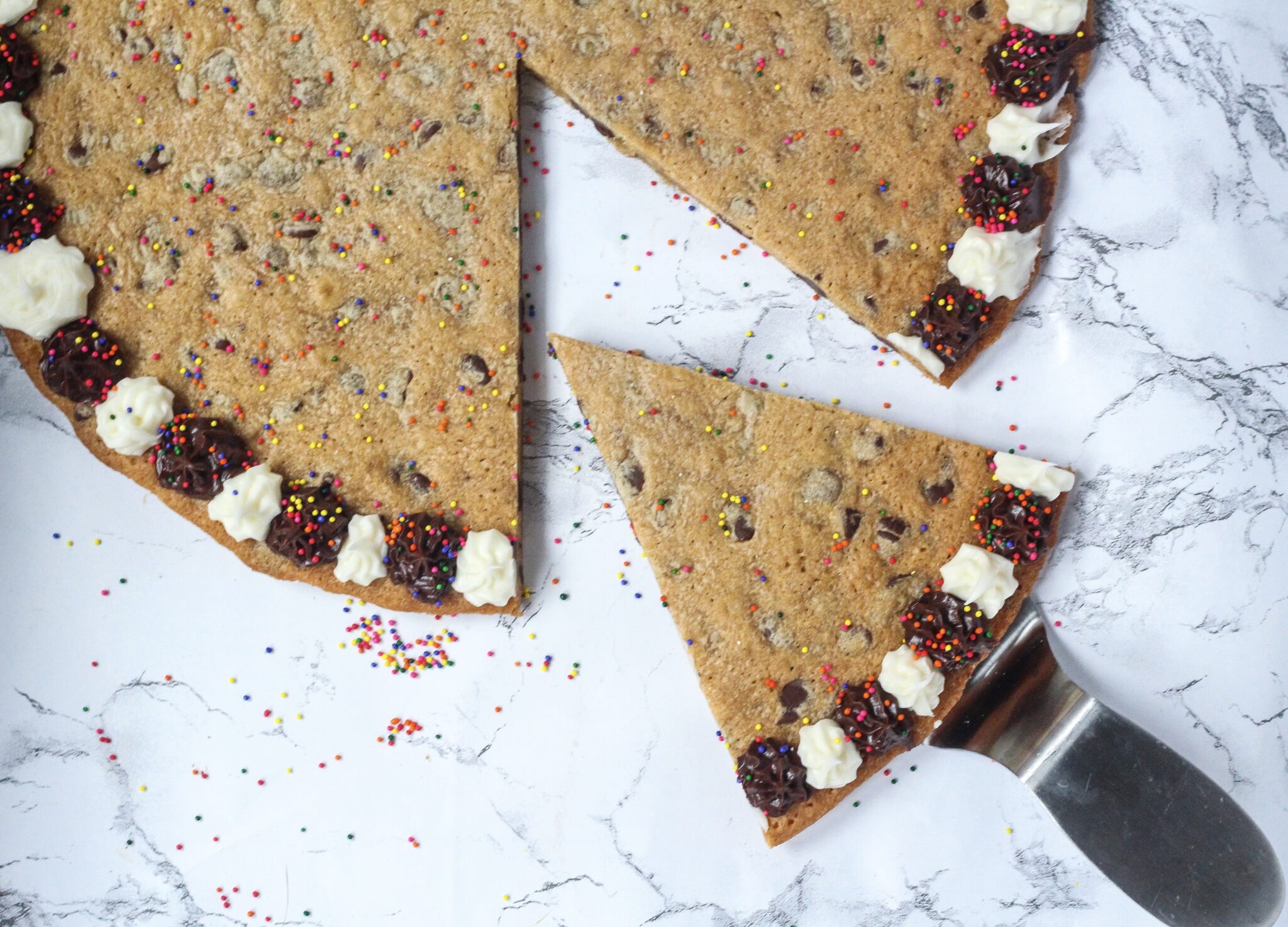 Most traditionally, cookie cakes are decorated around the edge with words in the center. I used a starred piping tip and piped little flower-like dots around the outside, alternating the chocolate and white icings. I considered writing happy birthday in the middle, but didn't trust myself to make it look good! However, if you're writing in the center, using a thicker tip to pipe the background of the words in white, and then a thinner tip to pipe the more legible words on top of the white icing is the most traditional cookie cake approach.
Instead of writing words, I used sprinkles. Lots and lots of sprinkles. Sprinkles make everything more fun and festive! And if you, like me, aren't artistic, this is a good alternative to writing! But also, if you're making the cake for yourself, who cares what it looks like, just cover that cookie with frosting (and if we're being honest, I added a lot more frosting after I took my photos)! There are no rules to decorating, so just have fun with it! It's going to taste amazing, no matter how it looks!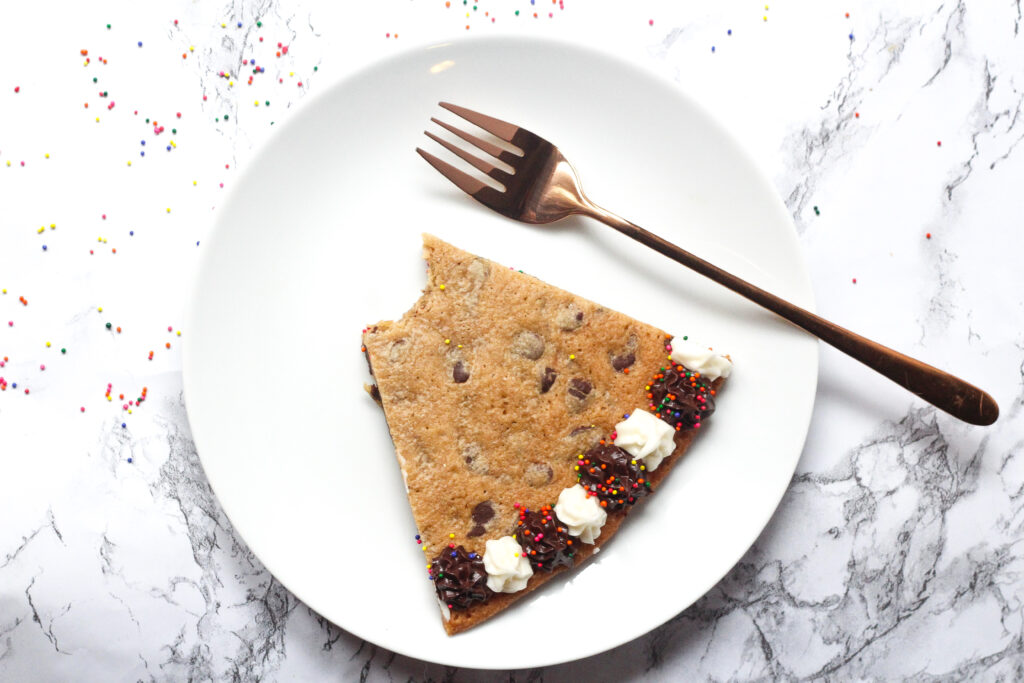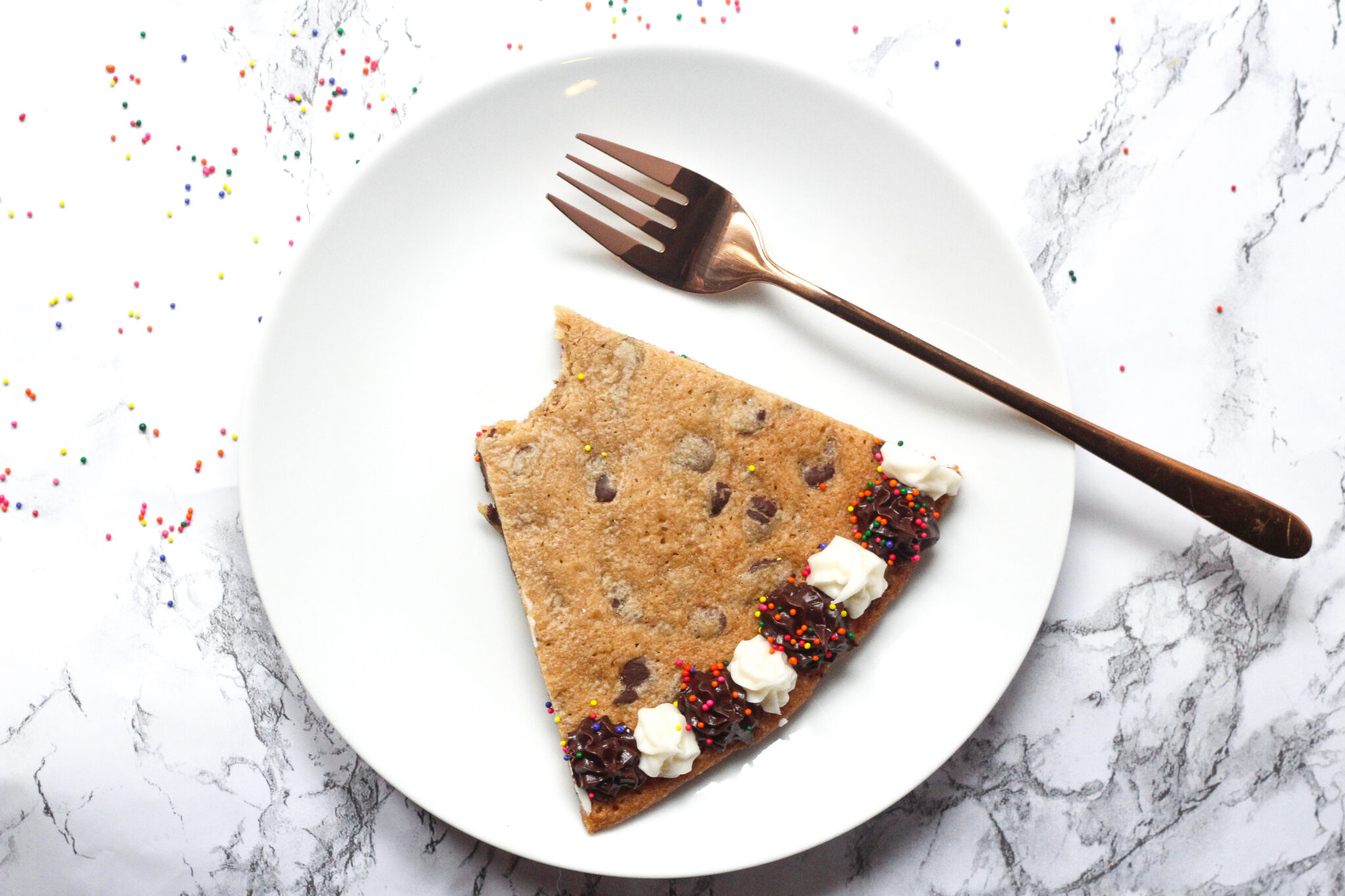 So celebrate anything and everything with this fun and delicious recipe! Get the kids involved and make it a family activity! It's super quick and easy and the result is extra yummy! If you give this a try, I'd love for you to leave me a comment or a review below!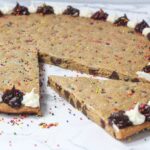 Print Recipe
Chocolate Chip Cookie Cake
Ingredients
1

stick

butter

melted

1

cup

brown sugar

1

tablespoon

vanilla

1

egg

1

cup

flour

1/2

teaspoon

cornstarch

2

teaspoons

kosher salt

Diamond Crystal

1

package

chocolate chips

1/4

cup

corn syrup
Instructions
Preheat oven to 325 F.

Line baking sheet with parchment paper (I used a round pizza baking sheet, but you can use a rimmed rectangular baking sheet if you don't have a round one).

In a mixing bowl, combine butter and sugar.

Add vanilla and egg and stir.

Stir in flour, cornstarch, salt.

Stir in chocolate chips.

Add corn syrup and mix until well combined.

Spread batter on to lined cookie sheet and bake for 20 minutes. Cookie should be golden brown.

Cool and decorate!
Notes
This recipe is my own, but the addition of corn syrup was inspired by Just a Pinch!
---
---