For my birthday, I always pick a cookie cake over a regular cake. I absolutely love cookie cakes, especially from Great American Cookie Company. But there is no Great American Cookie Company in Boston, so I created this copycat Chocolate Chip Cookie Cake recipe and now I can have it any time I want! If you've never had a cookie cake from Great American Cookie Co, it is a bit different from your usual chocolate chip cookies. It is a flat, dense, giant chocolate chip cookie, decorated with chocolate and vanilla frostings.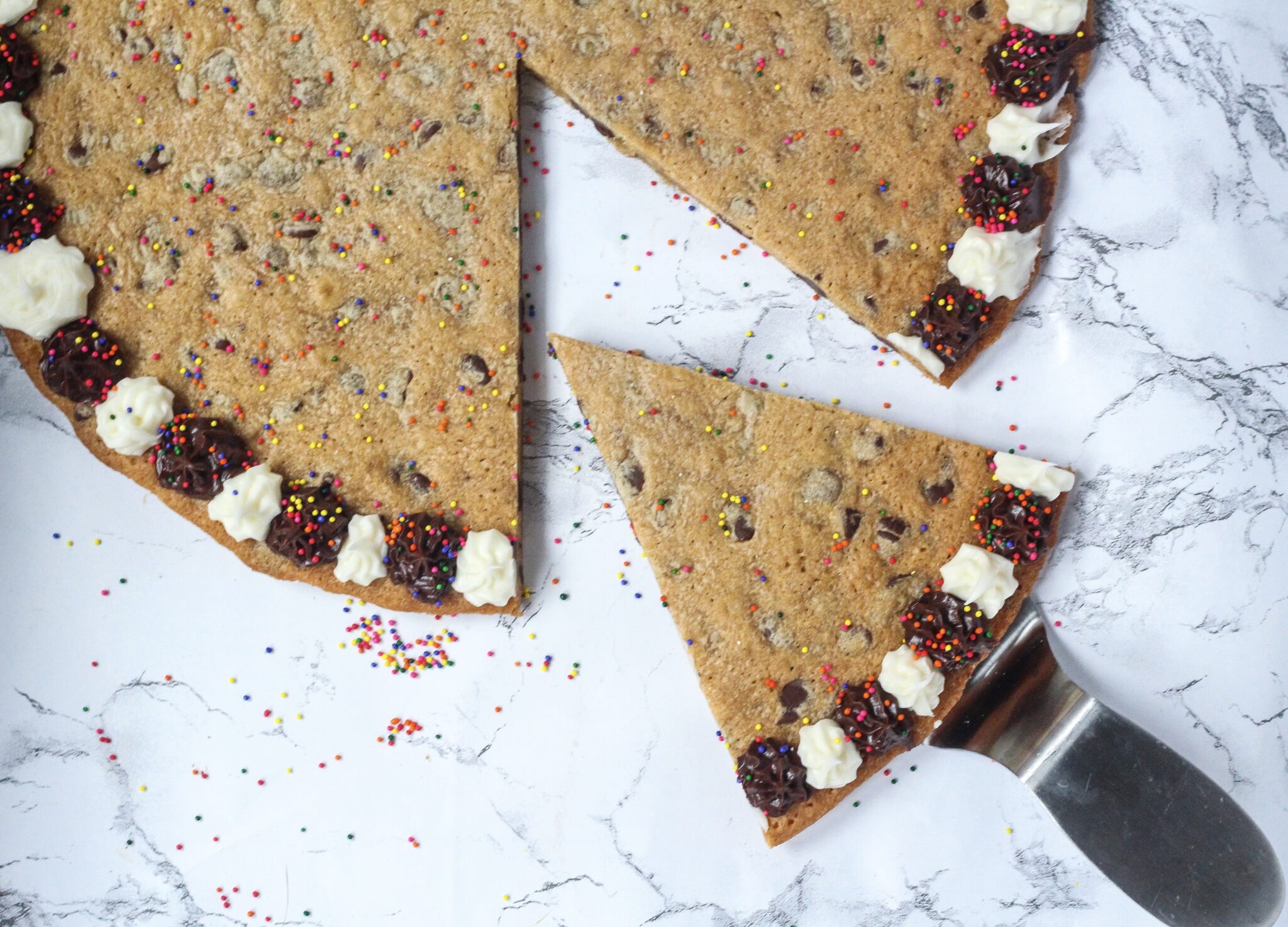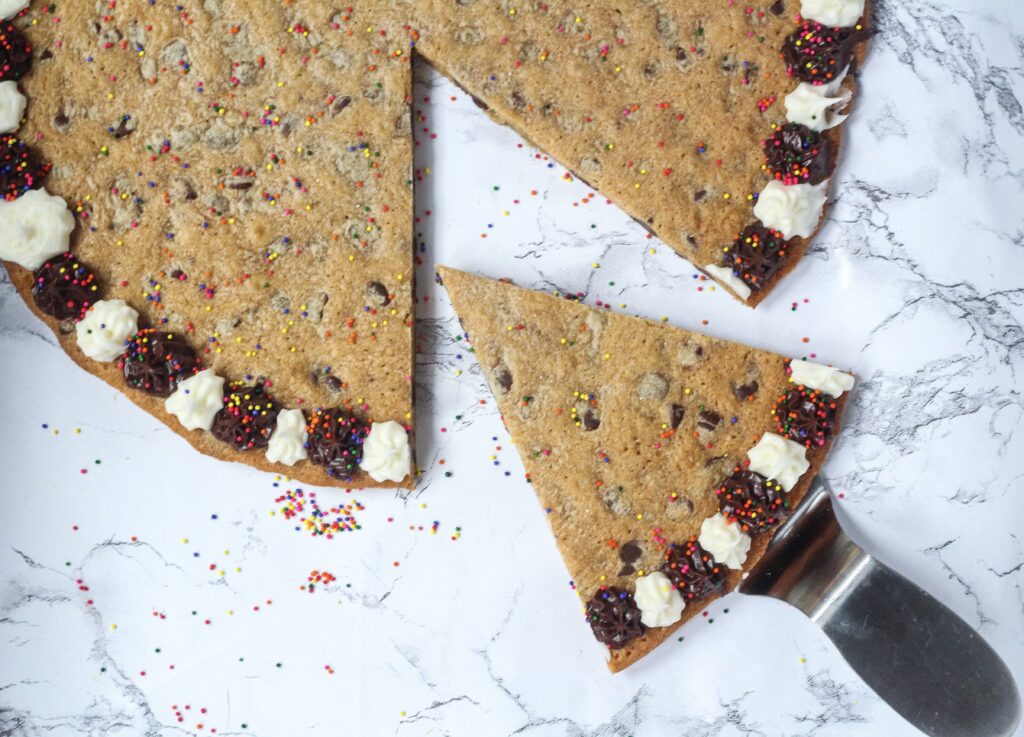 What You'll Need
This super easy recipe needs just a bowl and a spoon or spatula for prep. If you have a 12" round cookie sheet (pizza-sized, but not a pizza stone), that is what I used, but you can easily make a rectangular cookie cake on a regular, rimmed quarter sheet pan. If you use a quarter sheet pan, the cookie will be a bit thicker so will need to bake longer.
Ingredients
Butter - This recipe uses melted butter because melted butter makes a softer, moister cookie. Unsalted butter is generally ideal for baking, but if you use salted butter be sure to reduce the salt a bit.
Brown Sugar - Using light brown sugar instead of white brings a deeper flavor and also contributes to a chewier cookie. Dark brown sugar will work too.
Corn Starch - Cornstarch helps makes the cookie cake soft and velvety.
Ingredient - Corn syrup gives this cookie cake recipe that chewy and incredible Great American Cookie Cake texture we all know and love.
Salt - All salts are not created equal. I use Diamond Crystal Kosher salt in this recipe. This is not an ad or a sponsored post, but it's important that you know this so that you can adjust the measurement based on the type of salt you use. Most Kosher salts will be similar, though Diamond Crystal is the least salty of them, so you will want to reduce the salt a bit if you're using another brand of Kosher salt. You'll want to reduce the salt added significantly if you're using table salt (probably somewhere around half a teaspoon), but I would highly recommend not baking with table salt.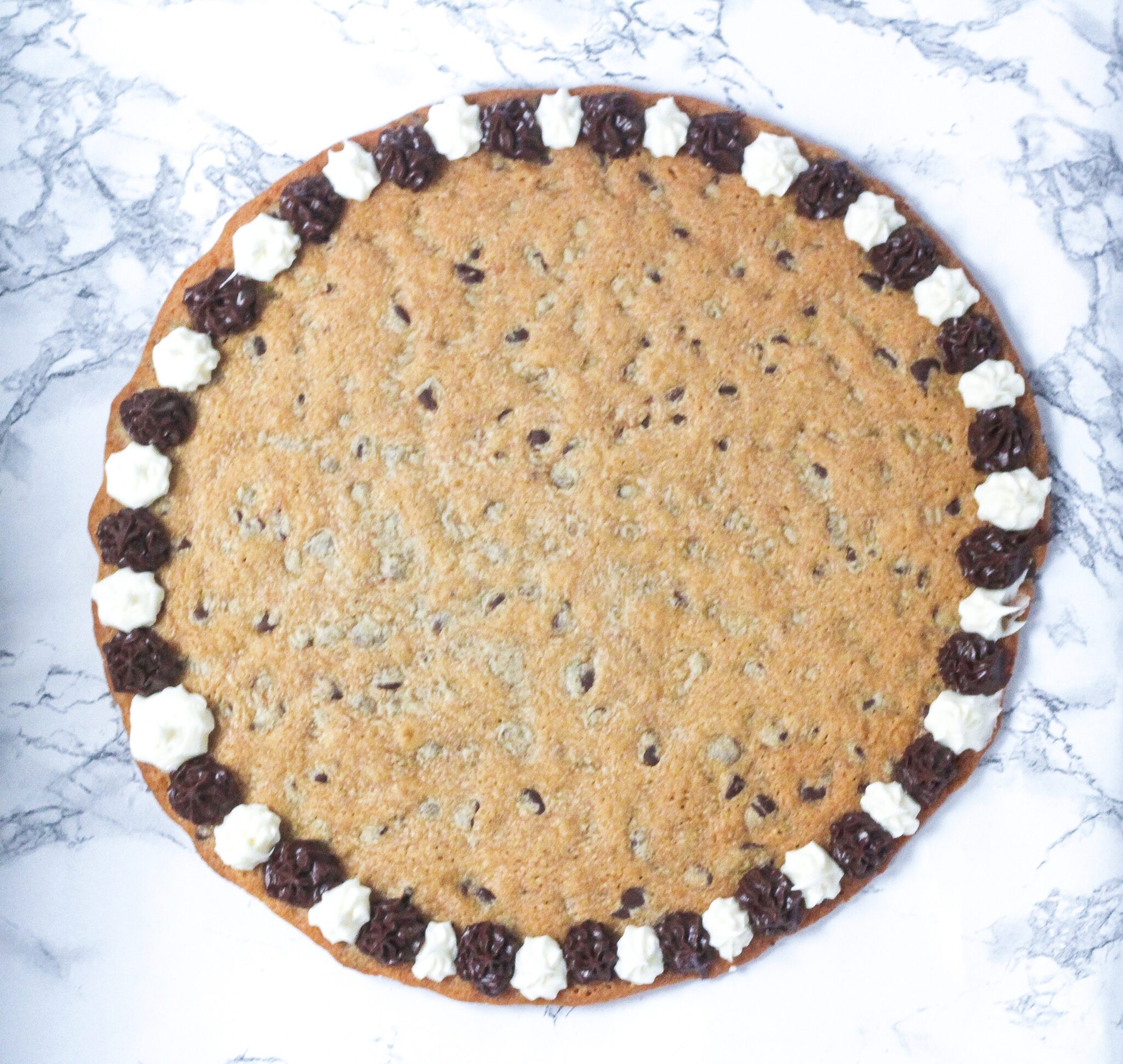 How to Make Chocolate Chip Cookie Cake
You'll want to line the baking sheet with parchment paper. If you're using the round sheet, I place the parchment on the baking sheet and then cut the overhang around the outside of the sheet so the parchment is round and won't hang down onto the oven rack.
In your bowl, you'll first mix together the melted butter and brown sugar. You'll then stir in the vanilla and egg. Following that you'll stir in flour, cornstarch, and salt. Once you have your batter, you'll stir in the chocolate chips. Lastly, you'll want to stir in the corn syrup. Make sure this is well combined, and then press cookie dough onto the lined cookie sheet using a spatula, or even your hands. Bake for about 20 minutes – the cookie will be golden brown when done. If you are using a quarter sheet pan, you will need to bake for about 30 minutes.
Decorating the Cookie Cake
Let the cookie cool completely before decorating or the frosting will melt. You can certainly make your own frosting, but I think the best cookie cakes are topped with canned frosting. I used alternating Dark Chocolate and White frosting, but you can use any flavors you'd like.
Most traditionally, cookie cakes are decorated around the edge with words in the center, but the options for cookie cake designs are endless. I used a starred piping tip and piped little flower-like dots around the outside, alternating the chocolate and white icings. I considered writing happy birthday in the middle, but didn't trust myself to make it look good! However, if you're writing in the center, using a thicker tip to pipe the word in white icing as background, and then a thinner tip to pipe the word again in chocolate on top of the white icing. This is the most traditional cookie cake approach.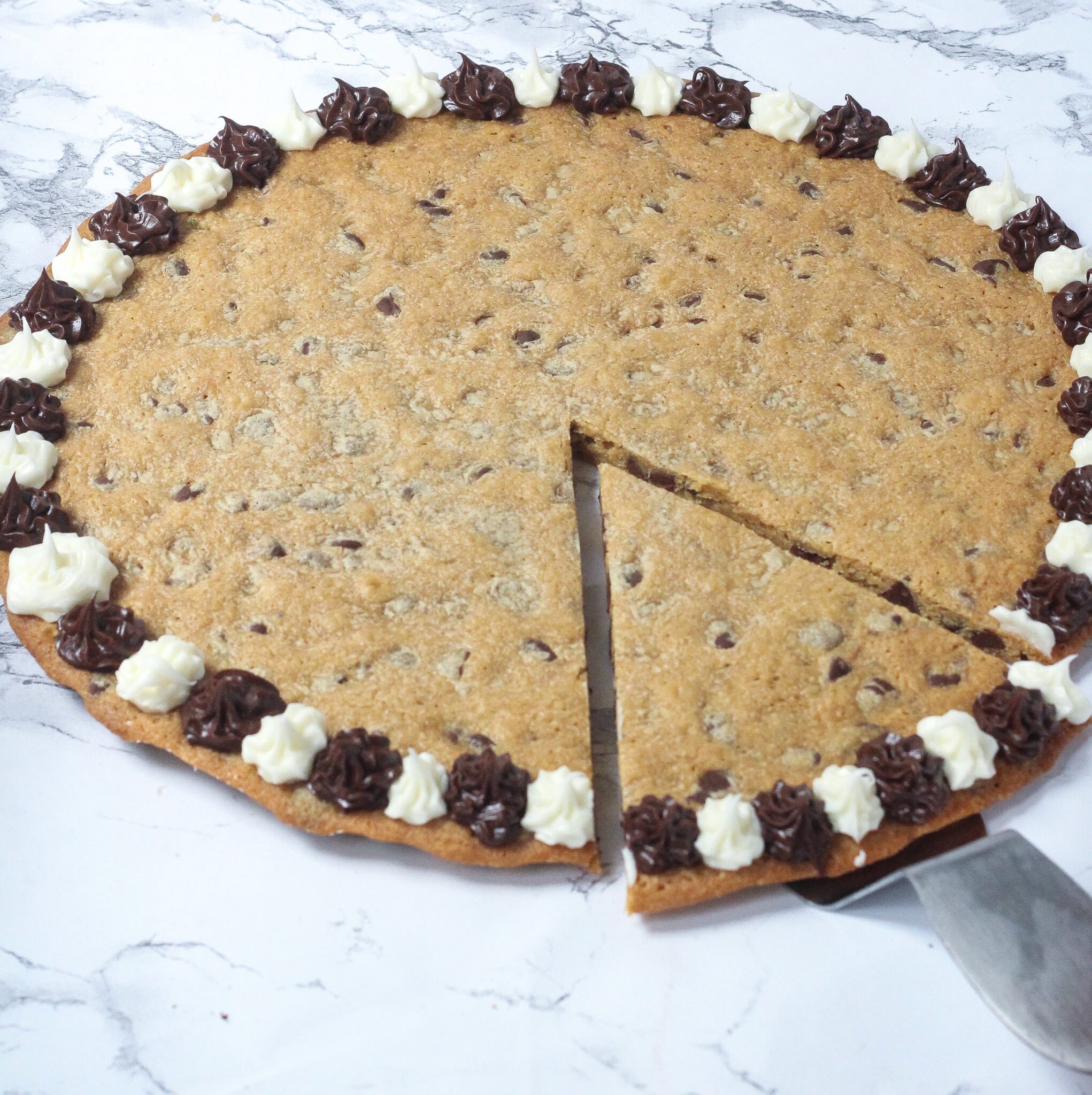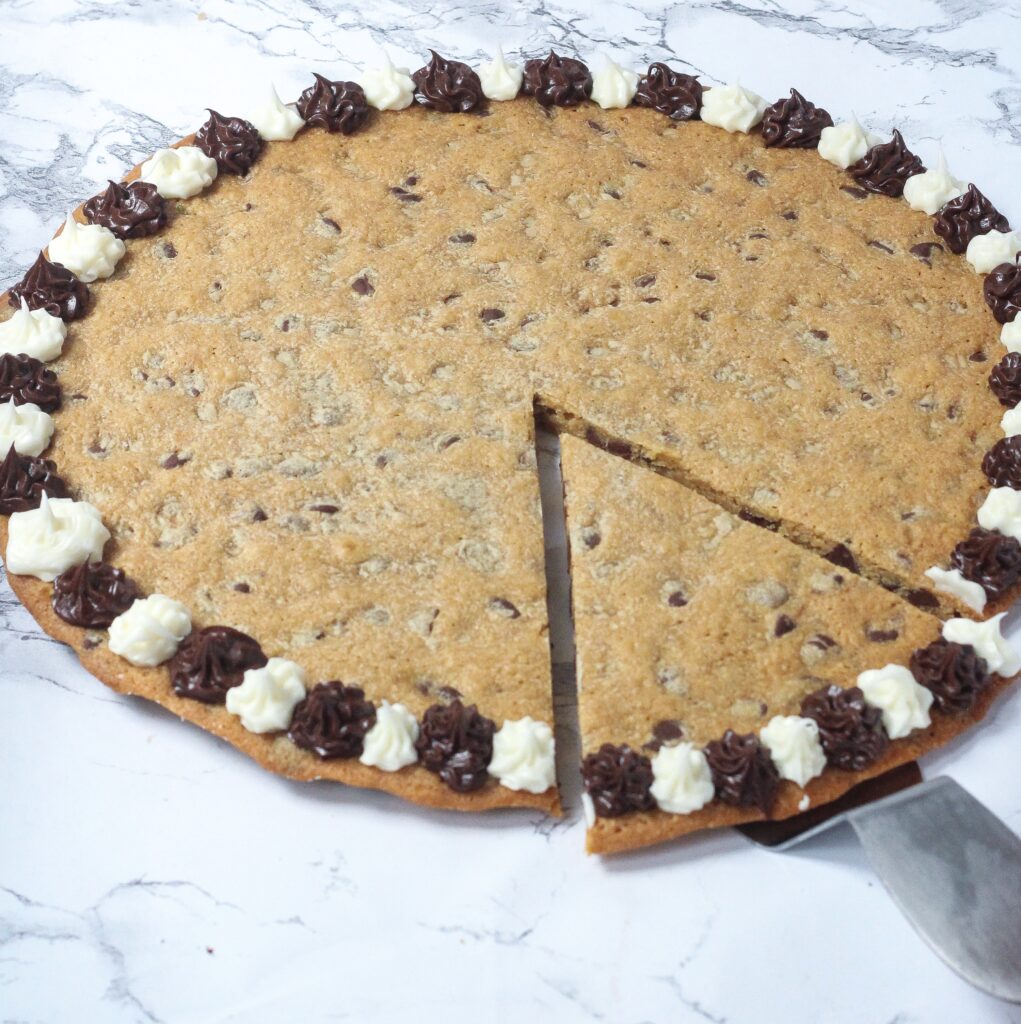 Instead of writing words onto this big cookie cake, I used sprinkles. Lots and lots of sprinkles. Sprinkles make everything more fun and festive! And if you, like me, aren't artistic, this is a good alternative to writing! But also, if you're making the cake for yourself, who cares what it looks like, just cover that cookie with frosting (and if we're being honest, I added a lot more frosting after I took my photos)! There are no rules to decorating, so just have fun with it! It's going to taste amazing, no matter how it looks!
How to store chocolate chip cookie cake
The cookie cake can be stored at room temperature. If you want to keep it in its full form, I would cover it with foil.  You can also cut it into pieces (I do triangles, like a pizza, but there are no rules! You can cut it however you would like!) and store it in airtight containers at room temperature.
What makes cookies cakey or chewy?
The melted butter, brown sugar, cornstarch, and corn syrup all contribute to this cookie cake being a soft, chewy chocolate chip cookie.  Colder butter and white sugar make for a crispier cookie. Over-mixing your flour will cause your cake to be too chewy, almost gummy, so be cautious to mix as little as possible after adding the flour.
How do you know when cookie cake is done?
When the cookie cake is golden brown, it's done. It may still look a bit soft and gooey, but as it cools, it will hold it's shape.
What can I use if I don't have chocolate chips?
For this recipe, I used semi-sweet chocolate chips, but you can also use milk or dark chocolate chips. You could even pick another flavor chips like peanut butter or butterscotch! Or chop up a candy bar, add some m&ms, whatever excites you!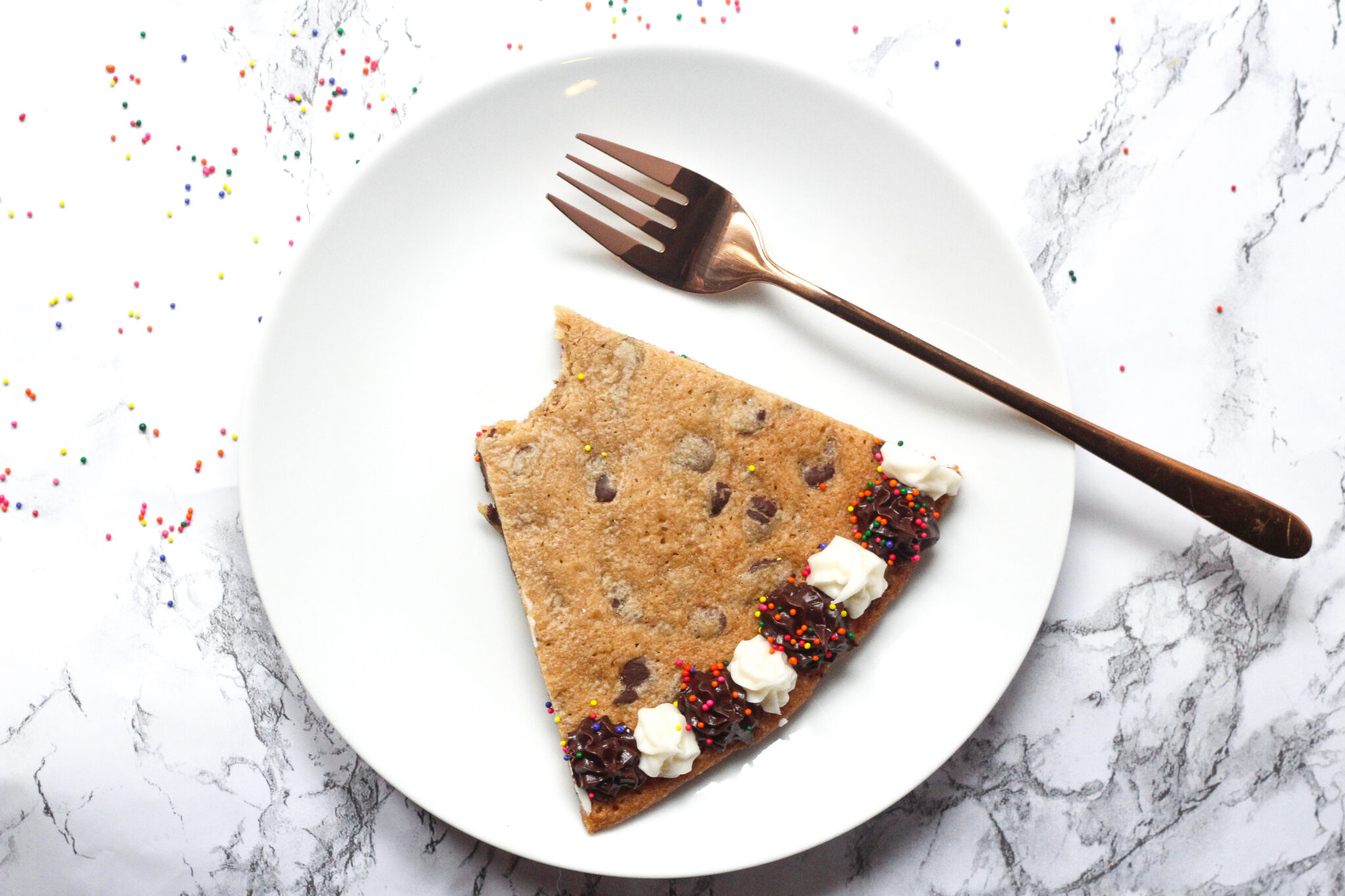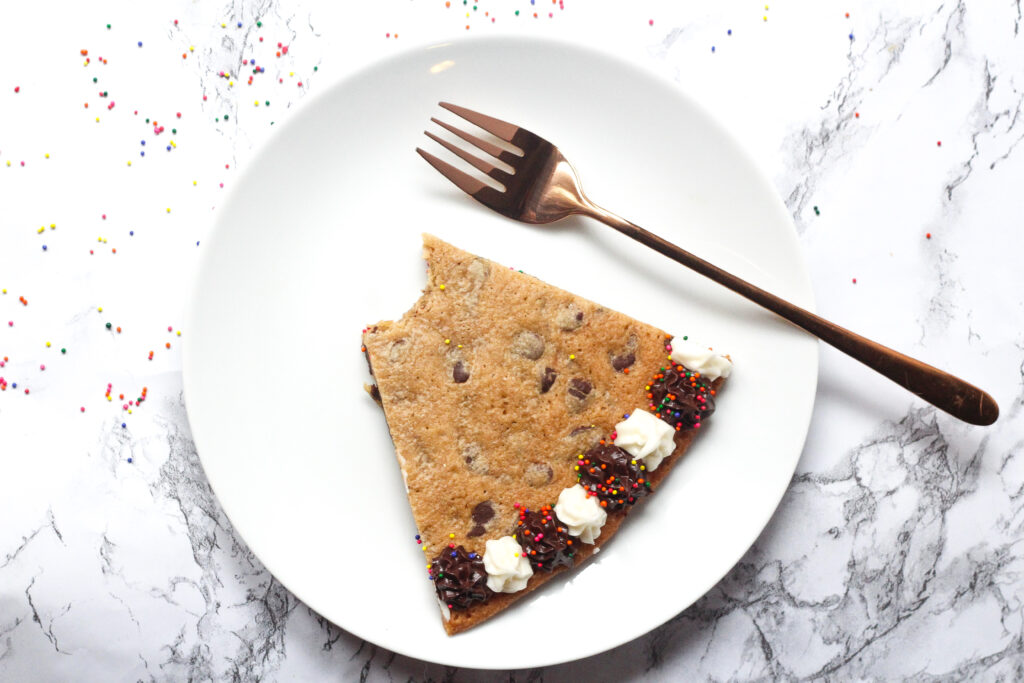 So celebrate anything and everything with this fun and delicious recipe! Get the kids involved and make it a family activity! It's super quick and easy and the result is extra yummy! If you give this a try, I'd love for you to leave me a comment or a review below!
Pin this recipe for later: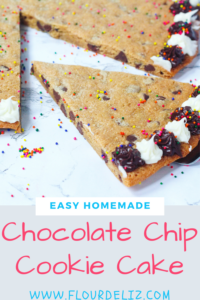 📖 Recipe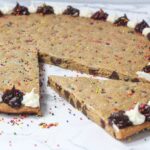 Print Recipe
Chocolate Chip Cookie Cake
Copycat Recipe for Great American Cookie Company Chocolate Chip Cookie Cake
Equipment
Sheet pan

Mixing bowl

Silicone spatula (a wooden spoon works too!)
Ingredients
1

stick

butter

melted

1

cup

brown sugar

1

tablespoon

vanilla

1

egg

1

cup

all purpose flour

½

teaspoon

cornstarch

2

teaspoons

kosher salt

Diamond Crystal, see notes

10

oz

chocolate chips

¼

cup

corn syrup
Instructions
Preheat oven to 325 F.

Line baking sheet with parchment paper (I used a round pizza baking sheet, but you can use a rimmed rectangular baking sheet if you don't have a round one).

In a mixing bowl, combine butter and sugar.

Add vanilla and egg and stir.

Stir in flour, cornstarch, salt.

Stir in chocolate chips.

Add corn syrup and mix until well combined.

Spread batter on to lined cookie sheet and bake for 20 minutes. Cookie should be golden brown.

Cool and decorate!
Notes
This recipe is my own, but the addition of corn syrup was inspired by Just a Pinch!
This recipe is based on using a 12" round rimmed baking sheet.  It can also be made on a quarter sheet pan (usually around 13"x9") but will be a slightly thicker cookie and will need to bake for about 30 minutes.
If you are not using Diamond Crystal brand Kosher salt, please scroll up to the measurements section and read about salt measurements.  If you are using table salt, you will need to significantly reduce the measurement. 
After adding flour, mix as little as possible. Just enough to incorporate the remaining ingredients. Over-mixing the flour will result in a too-chewy (not in a good way!) cookie. 
Did you try this recipe? Review and comment below, and share a photo on Instagram and tag @flourdeliz!
Looking for other cookie recipes? Check these out:
Cast Iron Cookie
Cranberry White Chocolate Chip Cookies
Fluff Oreo
Coffee Milk Cookie Sandwiches
Perfectly Chewy Chocolate Chip Cookies
Looking for other cake recipes? Check these out:
Flourless Chocolate Cake
No-Bake Prosecco Cheesecake
Raspberry Rosè Cake
This post was updated in May 2021 with an improved recipe and new photos, and in September 2021 with additional information about the recipe.