I love cotton candy. Maybe because it's usually associated with a special, fun event. Probably because it's pure sugar. But I can't help it - I just love it! I don't know why I've gone all these years without making cotton candy recipes, but if I'm going to give it a try, I'm going to start with my favorite dessert! And so the Cotton Candy Creme Brulee was born! Also, I secretly was hoping that I would make the crackly sugar topping with cotton candy instead of sugar, but sadly that did not work out.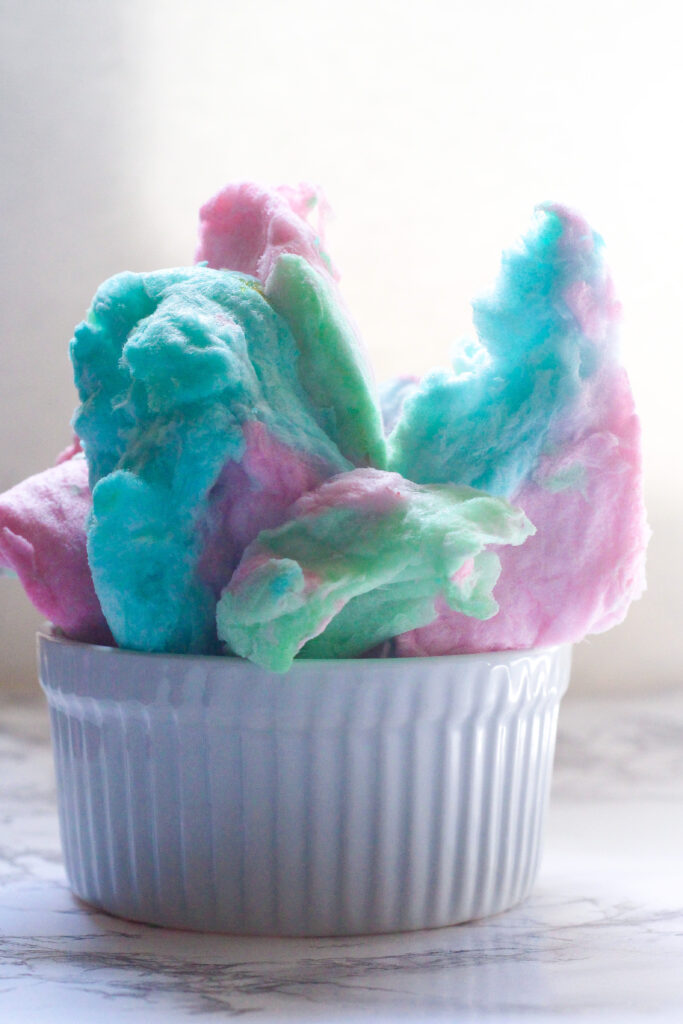 How to Make Cotton Candy Creme Brulee
Combine cream and salt in a saucepan over low heat. You only want to heat it until there is steam coming off the surface of the cream, you don't want it to boil. Once hot, remove from heat. In a small bowl, combine egg yolks and cotton candy. Stir a little bit of the hot cream mixture into the egg yolks. This helps slowly warm the egg yolks. If you were to put the egg yolks straight into the hot mixture, the eggs would heat up too quickly and you'd have scrambled eggs! Once you've mixed a bit of the hot mixture into the yolks, you can then add the yolk mixture into the rest of the cream.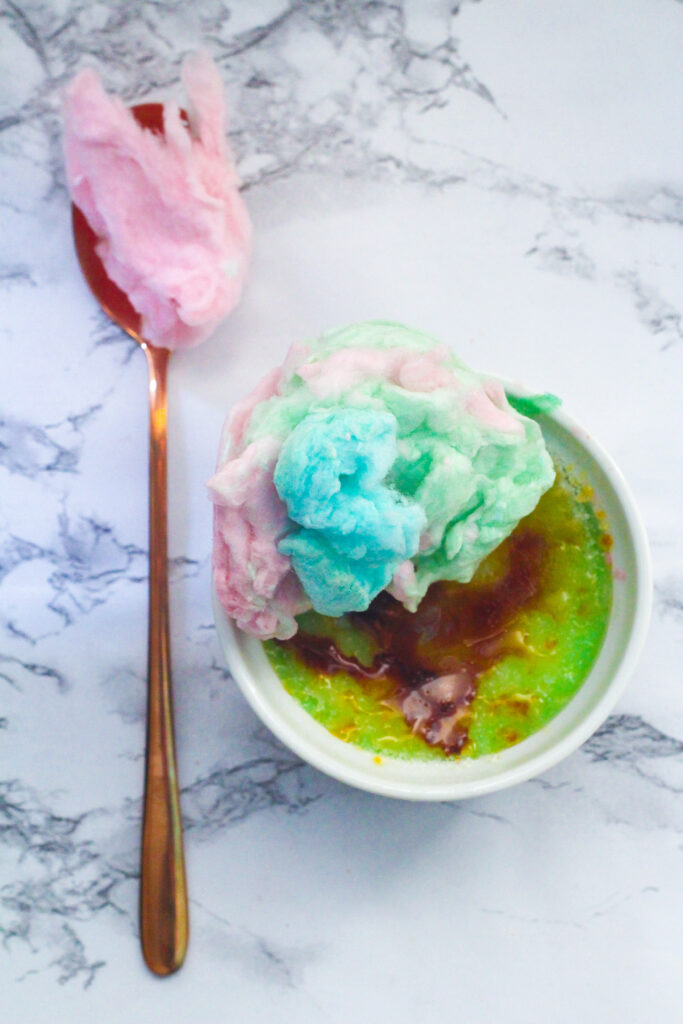 Pour the cotton candy mixture into four ramekins and place them in a baking dish. I use a 9x13 dish so they have enough room. You'll add boiling water into the baking dish, until it's about halfway up the sides of the ramekin. Make sure not to get the water in the ramekins!
You'll bake the crème brulees, and then they need to chill. So that your ramekins don't crack, you'll want to remove them from the baking pan, and let them cool for a bit before putting them in the refrigerator. Once they're fully cooled, you'll sprinkle sugar over the top of the crème brulee and torch it! I like to refrigerate it again after torching it, but you can eat immediately. If you're not eating immediately, you should keep it refrigerated until you're ready to eat it.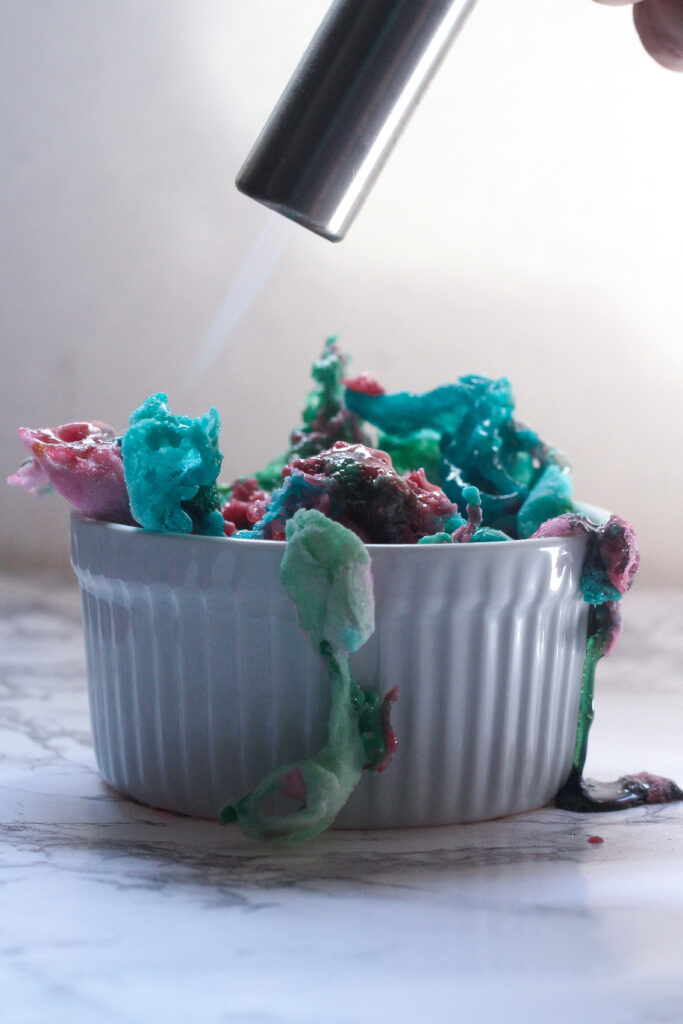 When you're ready to eat, top with some cotton candy, crack that hardened sugar topping and enjoy!
📖 Recipe
Print Recipe
Cotton Candy Creme Brulee
Servings:
4
creme brulees
Ingredients
2

cups

cream

¼

teaspoon

kosher salt

Diamond Crystal

5

egg yolks

6

cups

cotton candy

plus extra for topping

white sugar

for topping
Instructions
Preheat oven to 325 F.

Combine cream and salt in a saucepan over low heat until just hot.

Remove from heat.

Put yolks and cotton candy in a heatproof bowl.

Pour about ⅓ of the hot mixture into the cotton candy bowl and stir until most of the cotton candy has dissolved.

Pour the combined mixture back into the saucepan with the rest of the hot mixture. Stir to combine.

Place 4 ramekins in a baking dish, and pour mixture evenly between the four ramekins.

Fill the baking dish with boiling water to halfway up the sides of the ramekins.

Bake for about 40 minutes, till the centers of the crème brulees are barely set.

Remove from oven and take ramekins out of the baking dish. Cool for at least 15 minutes before refrigerating for several hours.

Top with sugar, and torch till sugar is melted. Sugar will harden. Decorate with additional cotton candy!