Not a mint julep fan? Or maybe bourbon isn't your liquor of choice? You can still celebrate the Kentucky Derby with a perfect on-theme cocktail and a boozy dessert to go with it! The Kentucky Oaks, the day before the Derby, has an official cocktail known as the Oaks Lily. The Lily is a spin on a cranberry and vodka cocktail. And these Kentucky Oaks Lily Cocktail Cupcakes are inspired by this delicious pink drink.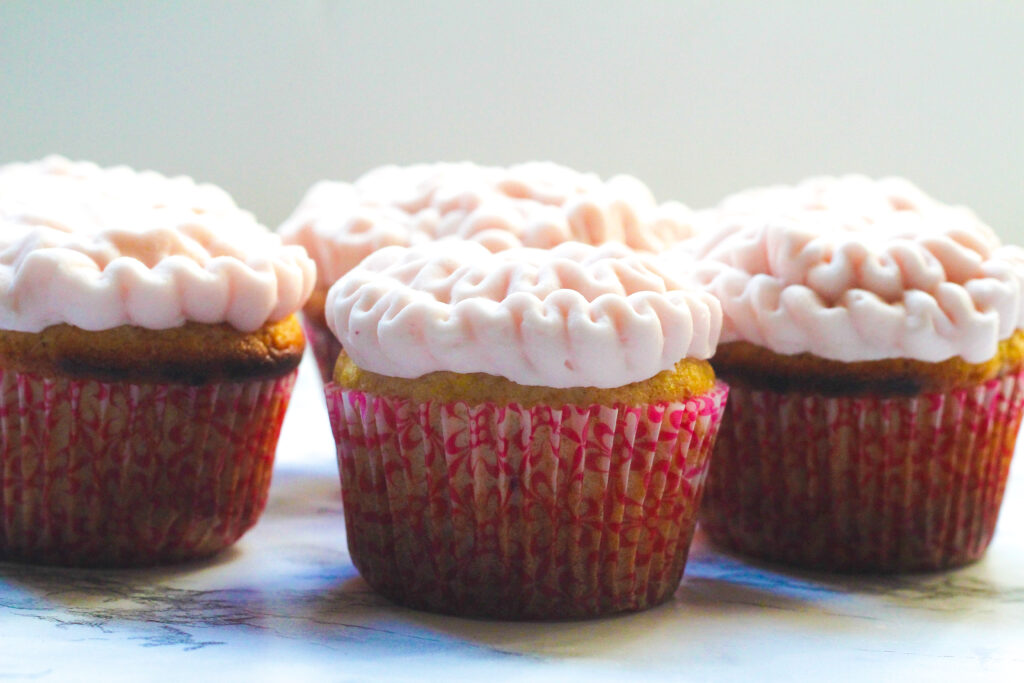 Why this recipe works
The Oaks Lily cocktail combines the flavors of cranberry and citrus spiked with vodka. Everything about that boozy sweet and sour flavor combo translates perfectly into these fun and fruity cupcakes. And because the Kentucky Oaks highlights all things pink, this cocktail is bright pink, and in keeping with that theme, these cocktail-flavored cupcakes are topped with a soft pink buttercream frosting.
Ingredients and notes
Cranberry Sauce - The signature Oaks Lily drink uses cranberry juice for both the delicious flavor and the beautiful pink color. In this pink cocktail cupcake recipe, both cranberry sauce and cranberry juice are used to really highlight the cranberry flavor. There are so many flavors combined in this sweet and simple boozy dessert that cranberry sauce helps the cranberry flavor shine.
Orange Zest - Triple Sec is used the in the official cocktail of the Kentucky Oaks to add a twist of orange flavor, and this flavored cupcake recipe uses triple sec in both the cupcake batter and the sweet pink frosting, but it also calls for orange zest to make the orange flavor more noticeable.
Vodka- Because the Lily is a vodka cocktail, we, of course, have to add some vodka! The vodka is added to the buttercream frosting in this recipe, but it can certainly be skipped or replaced if you prefer. Any vodka works fine here. The official Kentucky Oaks cocktail is made with Finlandia vodka, but we're using very little vodka in this recipe so use what you like or use what you have and it will be delicious!
Sweet and Sour Mix- Sweet and sour mix is the final flavor added to the Kentucky Oaks Lily. It's added to the cupcake frosting where it will stand out a bit more, but if you don't have sweet and sour mix, you could use any sort of lemon-lime flavor. You can use half lemon juice and half lime juice or even a soda like Sprite.
How to make this recipe
Cupcake
Step 1
Beat the butter and sugar until light and fluffy.
Step 2
Add in the eggs and Triple Sec.
Step 3
Combine the flour, baking powder, and salt (the dry ingredients) in a small bowl.
Step 4
Combine the cranberry juice, oil, orange zest, and cranberry sauce (the wet ingredients) in a separate small bowl.
Step 5
Add about one-third of the dry ingredients to the batter and mix, then add half of the wet ingredients, and continue alternating the dry and wet ingredients till all are fully incorporated.
Step 6
Pour batter into lined cupcake pan and bake until golden brown, about 15 - 20 minutes. Cool completely.
Frosting
Step 7
Combine all the frosting ingredients in a bowl and beat until the mixture reaches your desired frosting consistency.
Step 8
If the frosting is too thin, add a bit more powdered sugar to thicken it. If the batter is too thick, add a bit more of any of the cocktail ingredients to soften it.
Step 9
Spread or pipe onto cooled cupcakes.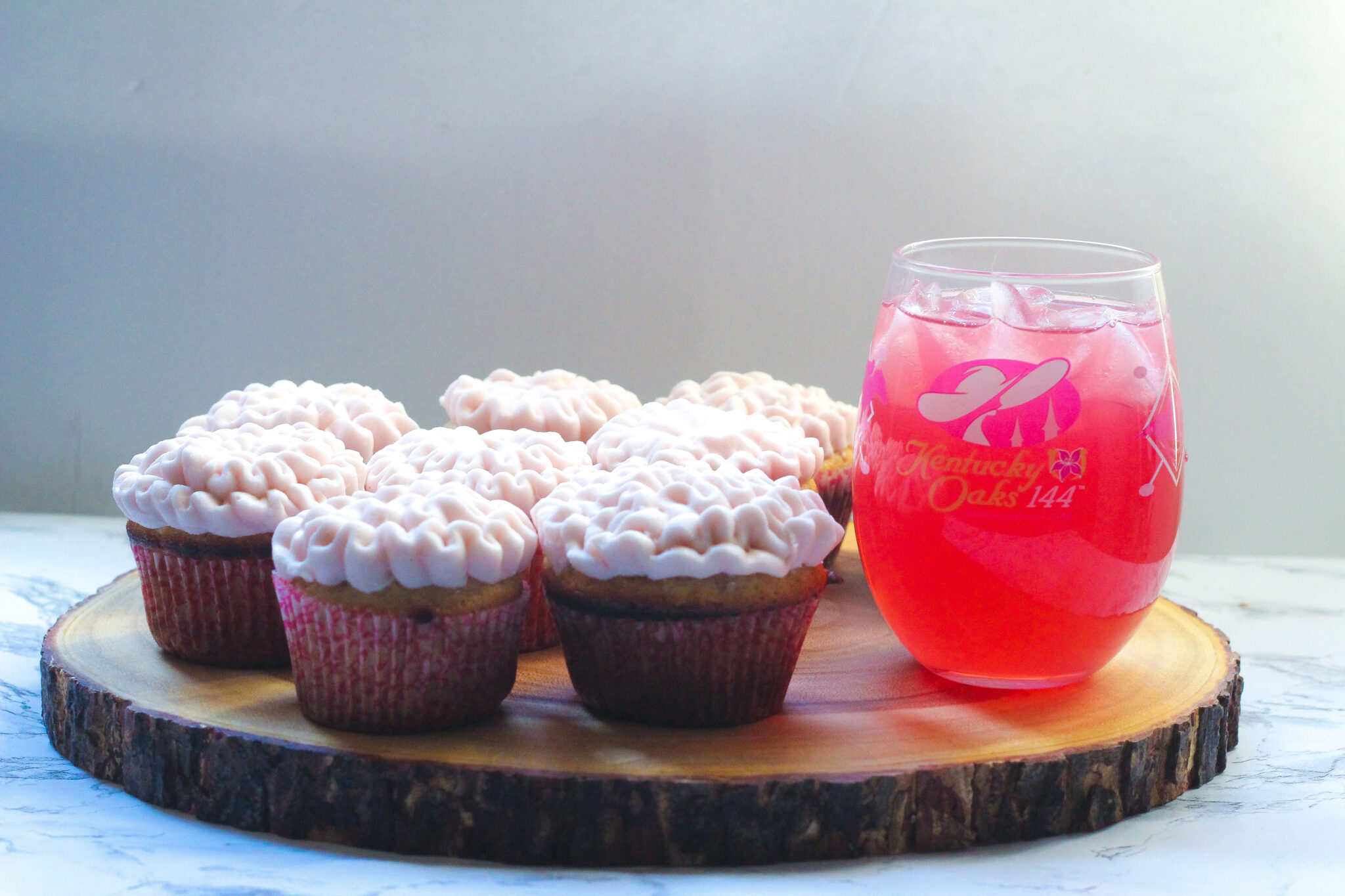 Recipe FAQs
What are the two official drinks of the Kentucky Derby?
Kentucky Derby has really gone from a single day to an entire weekend. Or if you're in Louisville, it's more like a full two weeks! But if you're spending Derby weekend at Churchill Downs, the two drinks that are served in those keepsake collectible glasses are the Oaks Lily, served in a stemless wine glass, and the Mint Julep, served in a souvenir highball glass.

The Oaks Lily is the official drink of the Kentucky Oaks, the day before the Kentucky Derby, which is the major race for female horses. Though female horses (fillies) do run in the Kentucky Derby, the field for that race is primarily male horses. The Mint Julep is the official drink of the Kentucky Derby, though both drinks are available at Churchill Downs beyond just Derby weekend.
How much alcohol is in an Oaks Lily cocktail cupcake?
There is less than ¼ cup of alcohol in the entire batch of this cupcake recipe. Though most of it is in the pink frosting so it is not baked down, there should only be about ¼ tablespoon of booze in each cupcake.
How do you make pink frosting?
The cranberry juice and cranberry sauce in this recipe give the frosting a soft baby pink color, but if you really want that pink to pop like it does in the cocktail a few drops of red food coloring (or pink if you have it!) should do the trick. If you're using red, start off with just a little bit at a time (you can always add more!) because you don't want the frosting to turn completely red! Using fun pink cupcake liners will also help these boozy desserts pop!
Tips & Tricks
If you are making these cupcakes in advance, the cupcakes can be stored un-frosted in an airtight container at room temperature, making the frosting and topping the cupcakes the day of serving. The cupcakes can be stored frosted in an airtight container in the refrigerator for a day or two. The cupcakes can also be frosted and frozen, they will just need to defrost for a few hours before serving.
Instead of dirtying up extra dishes, you can combine all your wet ingredients in the measuring cup instead of in a separate bowl. Just be sure to add the cranberry sauce last since it is measured differently than the cranberry juice and oil.
Related Recipes
Mint Julep Balls
Bourbon Peach Sweet Tea Cupcakes
Bourbon Molasses Chocolate Pecan Pie
Guinness Black Currant Cupcakes
Piña Colada Upside Down Cupcakes
Did you try this recipe? Review and comment below, and share a photo on Instagram and tag @flourdeliz!
Pin this recipe for later:
📖 Recipe
Print Recipe
Oaks Lily Cocktail Cupcakes
A sweet and fruity boozy cupcake inspired by the official cocktail of the Kentucky Oaks.
Equipment
cupcake pan

15 cupcake liners

2 medium mixing bowls

one for the batter and one for the frosting

2 small mixing bowls

one for the wet ingredients and one for the dry ingredients
Ingredients
Cupcakes
1 ½

sticks

butter

1 ½

cups

sugar

2

tablespoons

Triple Sec

4

eggs

2 ½

cups

flour

2 ½

teaspoons

baking powder

½

teaspoon

kosher salt

Diamond Crystal

½

tablespoon

orange zest

½

cup

cranberry sauce

⅓

cup

oil

¼

cup

cranberry juice
Frosting
1

stick

butter

softened

1

tablespoon

vodka

1

tablespoon

Sweet & Sour

½

tablespoon

Triple Sec

3

tablespoon

cranberry juice

1

tablespoon

cranberry sauce

3 ½

cups

powdered sugar
Instructions
Cupcakes
Preheat oven to 350° F and line cupcake tin with paper liners.

Beat together butter and sugar.

Beat in Triple Sec and eggs.

Combine the dry ingredients (flour, baking powder, salt) in one bowl and the wet (cranberry juice, oil, orange zest, cranberry sauce) in another.

Alternate adding dry and wet ingredients starting and ending with dry (add dry in thirds and wet in halves).

Pour batter into cupcake liners till mostly filled.

Bake for 15-20 minutes till golden brown.

Remove from oven and cool completely, then frost.
Frosting
Combine all ingredients in a bowl and beat well.

Add more cranberry juice (or vodka!) if the frosting is too thick, more powdered sugar if it's too wet.

Beat until desired consistency.
Notes
The wet ingredients can be combined in the measuring cup instead of in a separate bowl, but the cranberry sauce needs to be added last since it is measured differently.
Nutrition
Calories:
489
kcal
|
Carbohydrates:
70
g
|
Protein:
4
g
|
Fat:
22
g
|
Saturated Fat:
10
g
|
Polyunsaturated Fat:
2
g
|
Monounsaturated Fat:
8
g
|
Trans Fat:
1
g
|
Cholesterol:
84
mg
|
Sodium:
289
mg
|
Potassium:
54
mg
|
Fiber:
1
g
|
Sugar:
53
g
|
Vitamin A:
542
IU
|
Vitamin C:
1
mg
|
Calcium:
55
mg
|
Iron:
1
mg
This recipe was originally posted on May 12, 2017 but was republished with additional information about the recipe, step-by-step instructions, FAQs, and tips and tricks in May of 2022.