Rice Krispie Treats are such a simple no-bake treat, but this super easy recipe takes these classic cereal bars to a whole new level! Combining Fruity Pebbles with ooey gooey melty marshmallows is so easy and even more delicious! These Fruity Pebbles Treats come together in a matter of minutes with just three simple ingredients.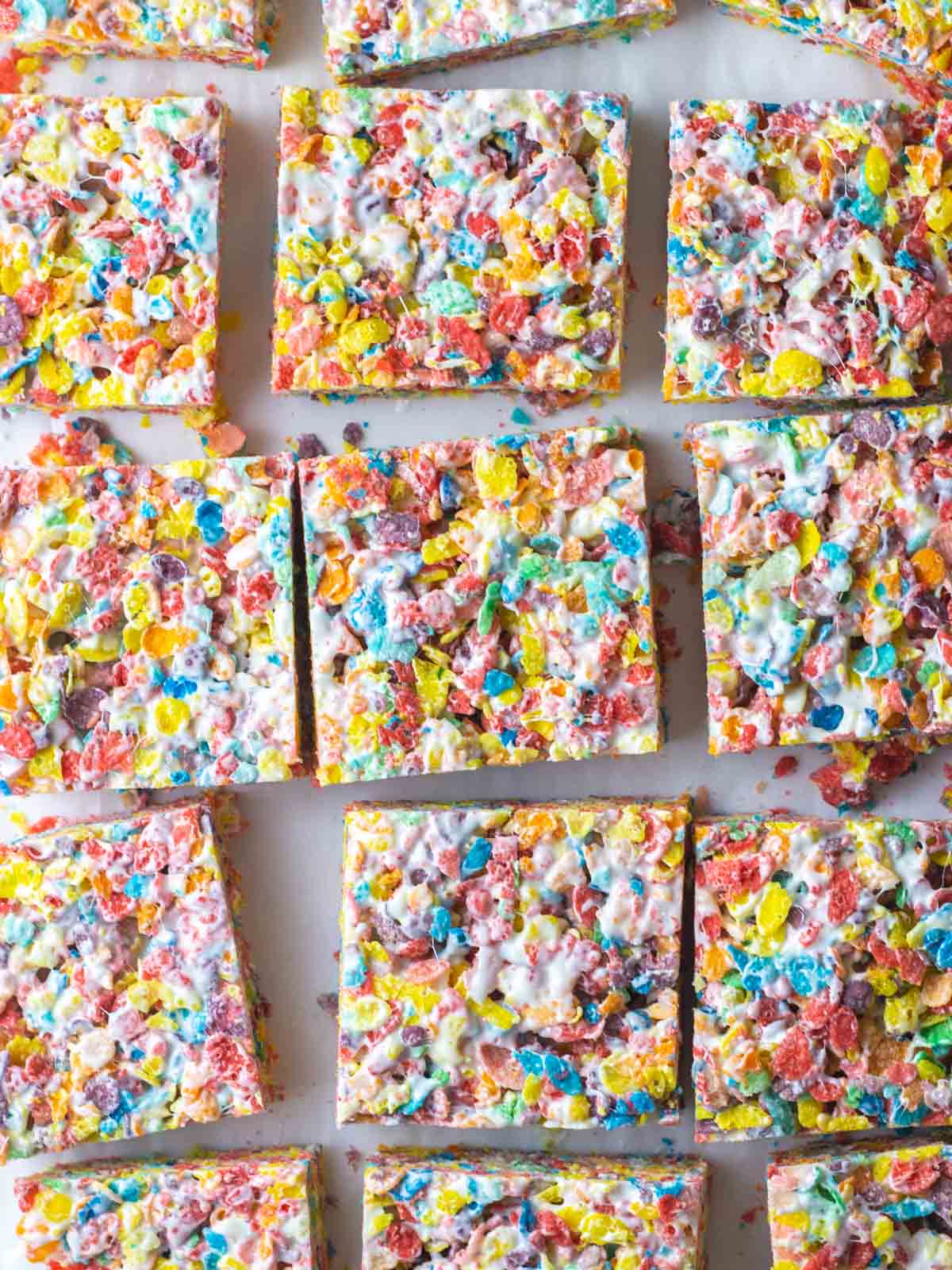 This cereal bars recipe is a perfect afternoon snack, or even a great breakfast - I mean, it's cereal! These Fruity Pebbles Treats are also super easy to package up for a gift or bake sale, a picnic or a school lunch box, and the fun and bright colors make them stand out from traditional Rice Krispie Treats. If your prefer to use Rice Krispies, you'll also enjoy these Maple Rice Krispie Treats or these Nutella Rice Krispie Treats.
Jump to:
Why this recipe works
These fluffy, chewy Fruity Pebbles bars combine all the best parts of childhood. The sweet and fruity cereal is held together by marshmallows melted with butter, creating an ooey gooey and colorful nostalgic treat! Plus, they are easy enough that the kids can even help make them!
Ingredients and notes
Mini Marshmallows - The mini marshmallows melt more easily than larger marshmallows will. Ensure you are using fresh marshmallows. If they are stale they will not melt properly.
Butter - The butter contributes to both the flavor and texture of these homemade no-bake treats. It also helps the marshmallows melt smoothly.
Fruity Pebbles - The cereal gives these easy rainbow marshmallow treats their primary flavor. Plus, Fruity Pebbles are gluten-free making this three-ingredient recipe perfect for those with gluten allergies or sensitivities.
Substitutions
Mini Marshmallows - Larger marshmallows will work for this too. Marshmallow Creme or Fluff will also work, but will likely not hold the shape of bars so while it will taste good, you may just have to dig straight into the Fruity Pebbles Treats with a fork!
Butter - Coconut oil can replace butter to make this easy dessert dairy-free. It may slightly change the taste, giving a hint of coconut flavor, but should still be delicious!
Fruity Pebbles - Any cereal can be substituted here! I love using Fruity Pebbles because the flavor works so well with the marshmallow. Plus, I love the pop of color! Cocoa Pebbles would also be a delicious chocolate version of these Pebbles bars. If you prefer a chocolate coconut cereal treat you will also love these No-Bake Coconut Cocoa Pebbles Treats!
These Fruity Pebbles Treats will be sweeter than your classic Rice Krispie Treats so if these are too sweet for your liking, you can replace half of the Fruity Pebbles with Rice Krispies. These cereal bars will still have the bright fun colors and the sweet fruity flavor, but the Rice Krispies will help balance out the sweetness a bit.
How to make this recipe
Step 1: Line a 9x13 baking dish with parchment paper.
Step 2: Heat the marshmallows and butter over medium-low heat, stirring frequently, until almost melted. Remove from heat and continue stirring until melted and smooth.
Step 3: Stir the Fruity Pebbles into the melted marshmallow mixture.
Step 4: Spread into the lined pan and let set.
Step 5: Cut into squares and enjoy!
Step 6: For an extra sweet treat, dip the bars into melted white chocolate.
Recipe FAQs
Are Fruity Pebbles rice cereal?
Yes! Fruity Pebbles are fruity flavored rice cereal. This means they are gluten free making these Fruity Pebbles Cereal bars, unlike Rice Krispie Treats, gluten free!
Can I use a different sized pan?
Yes! For thicker Fruity Pebbles Cereal Bars, you can instead use an 8x8 pan. Alternatively, this simple one-bowl recipe can be made in two 8x8 pans for easy rainbow marshmallow treats that are about an inch thick (as pictured).
Why are my Fruity Pebbles Treats hard?
If your Fruity Pebbles bars are freshly made and they're hard, it may be because they were pressed into the pan too firmly. While you want the cereal to stick to the marshmallows to form bars, you don't want to pack them into the baking dish or they will be hard to bite into! Be sure to just lightly press them into the pan.

Overcooking the marshmallows or melting them at too high of a heat may also result in hardened cereal treats.

If you made these Fruity Pebbles bars a few days ago, they may be stale. If you made them more recently, your airtight container may not have been well-sealed.
Tips & Tricks
Tip #1: To melt the butter and marshmallows using the microwave, heat in a large microwave-safe bowl for 45 seconds and then stir. Continue heating in 15 second increments, stirring after each, until melted and smooth.
Tip #2: To hold the parchment paper in place, use binder clips to clip it to the edges of the baking dish (see photo above in the How to Make this Recipe section).
Tip #3: Using parchment paper allows you to make this no-bake cereal bar recipe without the Fruity Pebbles Treats sticking to the pan. In place of parchment paper, you can butter the pan. If using non-stick spray, spray lightly to avoid soggy cereal bar bottoms and to avoid tasting the spray.
Tip #4: A silicone spatula should be fairly non-stick, but if you're having trouble spreading the marshmallow and cereal mixture, you can use a piece of wax paper to help gently press the marshmallow cereal mixture into the pan. Alternatively, you can very lightly spray your spatula with non-stick spray. Spraying the spatula with non-stick spray will also help if your spatula is sticking while stirring the cereal into the melted marshmallows.
Tip #5: Let these no-bake marshmallow bars set completely before cutting into squares to ensure they stick together and hold their shape.
Storage Tips
These Fruity Pebbles Treats can be stored in an airtight container at room temperature for 3-5 days.
Related Recipes
Did you try this recipe? Leave a review below, and tag @flourdeliz on Instagram!
📖 Recipe
Print Recipe
Fruity Pebbles Treats
Fruity Pebbles cereal mixed with melted marshmallow creating a sweet and colorful cereal bar.
Equipment
large saucepan or microwave-safe bowl

silicone spatula

9x13 baking dish
Ingredients
6

cups

mini marshmallows

10 oz bag

4

tablespoons

butter

6

cups

Fruity Pebbles

11 oz box
Instructions
Line a 9x13 baking dish with parchment paper.

Melt butter and marshmallows in a large saucepan over medium-low heat, stirring frequently. Remove from heat when almost melted and stir until smooth. Alternatively, this can be done in the microwave (see notes).

Spread into pan and let set.

Cut into squares and enjoy!

Optional: Dip squares into melted white chocolate and let set.
Notes
To melt the marshmallows and butter in the microwave, heat for 45 seconds then stir. Continue microwaving in 15-20 second increments, stirring between each, until smooth.
In place of lining the pan with parchment paper, you can butter the pan.
Wax paper can be used to gently press the marshmallow cereal mixture into the pan without it sticking to your hands. Do not press firmly!
Let the bars set completely before cutting or they may fall apart.
Nutrition
Calories:
151
kcal
|
Carbohydrates:
29
g
|
Protein:
1
g
|
Fat:
4
g
|
Saturated Fat:
3
g
|
Polyunsaturated Fat:
0.1
g
|
Monounsaturated Fat:
1
g
|
Trans Fat:
0.1
g
|
Cholesterol:
8
mg
|
Sodium:
124
mg
|
Potassium:
13
mg
|
Fiber:
0.1
g
|
Sugar:
16
g
|
Vitamin A:
493
IU
|
Vitamin C:
4
mg
|
Calcium:
5
mg
|
Iron:
1
mg