Spiced Beer Bread
Over the past few months, my husband and I have been watching the show Impractical Jokers quite a bit. It's light, fun, and funny, which has brought a lot of joy during a particularly difficult year.  As a gift, I got my husband some R&H Beer, a brewery owned by one of the guys from the show. I happened to catch a few Instagram videos where he and his Brew Master did beer pairings with Halloween candies.  I watched them all and took a lot of notes, and realized I could replicate those flavors in desserts!
I also really liked the fact that the Brew Master is female, so I wanted to use this brand of beer.  I decided to start with the IPA because that's what we have the most of.  They paired the IPA with hot tamales in their Halloween candy pairing, so I did a little research and according to the Internet, hot tamales are most likely made with cassia, not cinnamon.  Cassia is very similar to cinnamon, and I happen to have some cassia. My husband got me a Root for Women box from a local, woman-owned spice store, Curio, and cassia was included in that box.  These flavors combined so perfectly to make this soft, moist, flavorful Spiced Beer Bread.
What you'll need
I prefer to use a hand held mixer for this recipe (mostly because it's easier to clean) but a stand mixer works great, or if you need to, you can cream butter and sugar by hand with a bowl and a spatula or wooden spoon. I also used a mini loaf pan, but if you don't have one, you can use a cupcake pan, or a full-sized loaf pan.  Just note that you'll need to adjust the cook time if you use a full-time loaf pan.
Ingredients
butter
sugar
eggs
IPA (I use R&H Beer IPA)
baking soda
baking powder
kosher salt (I use Diamond Crystal)
cassia or cinnamon
flour
How to prepare your pan
Regardless of the shape of the pan you choose, you'll want to grease the pan. That's it! Your pan is prepped!
How to make Spiced Beer Bread
Like basically every recipe, you'll start by creaming butter and sugar. You'll then add in the eggs and IPA and combine. Next, you'll add in the baking soda, baking powder, kosher salt, and cassia or cinnamon. Mix those in, then add the flour and mix until just combined. That's it! Pour it into your pan and bake.  It's really that easy!
Common Questions
What does Spiced Beer Bread taste like?
This bread has a mild beer flavor with a hint of cinnamon. While the beer flavor comes through, the subtle sweetness of the bread completely removes the bitterness of the beer.
Can you get drunk off beer bread?
No. When you cook beer (or any booze), the alcohol evaporates and you get the flavor of the beer without the alcohol content.
Is cassia the same as cinnamon?
They are not the same, but they are very similar. Cassia is a bit stronger and more bitter, while cinnamon is sweeter. When ground, they are difficult to distinguish.
Looking for other bread recipes? Check these out:
Looking for other beer recipes? Check these out:
Stout Beer Brownies
Guinness Black Currant Cupcakes
Shipyard Pumpkinhead Iced Cookies
Wannamango Cupcakes
Did you try this recipe? Review and comment below, and share a photo on Instagram and tag @flourdeliz!
Pin this recipe for later: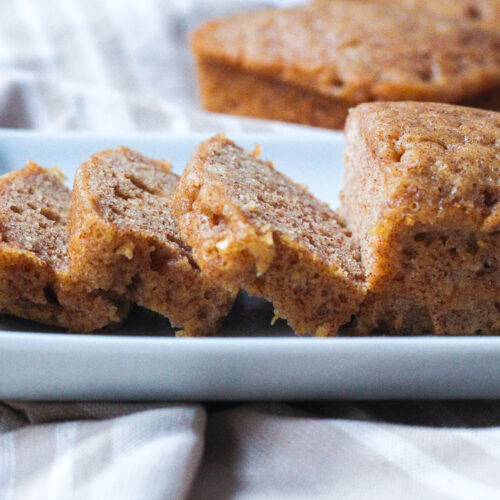 Print Recipe
Spiced Beer Bread
Ingredients
1

stick

butter

1

cup

sugar

2

eggs

1

cup

IPA

R&H Beer

1

teaspoon

baking soda

1

teaspoon

baking powder

1

teaspoon

Kosher salt

Diamond Crystal

2

teaspoons

cassia or cinnamon

Curio spice

2

cups

flour
Instructions
Grease your pan of choice. I used a mini loaf pan. You could also use a cupcake pan. If you use a full-sized loaf pan, you'll need to adjust your bake time.

Add baking soda, baking powder, cassia or cinnamon, and salt, and mix.

Add flour and mix until just combined.

Fill each cup in mini loaf pan or cupcake pan about 3/4 full.

Cool 15 minutes and enjoy!
---
---